Hell is paved with good intentions
But Heaven is roofed with the best.
                             MAX BEERBOHM 
Intentions, our print magazine, is published and sent to members four times a year. It records the events and proceedings of the Society as well as items of wider interest to Wildeans, such as plays, exhibitions and new books. Future Society events and booking information for these are always published in Intentions, which is an illustrated publication, only available to Oscar Wilde Society members.
To give an idea of the flavour of Intentions, the February 2021 issue (no. 116) includes a brilliant imaginary conversation between Oscar Wilde, T. S. Eliot, Charles Dickens and Thomas Chatterton from Peter Ackroyd's biography of Dickens; an extract from a new play about Lady Bracknell; a comparison of George Bernard Shaw with Wilde in the year in which Shaw comes out of copyright; an obituary of John Fraser, most gorgeous of all the silver screen Bosies; a review of Rupert Everett's book about the making of The Happy Prince; and the results of the Wilde Wit Competition.
Four recent covers of Intentions (shown below) have featured photographs from the Classic Spring productions of Oscar Wilde's society comedies. In each case the editor chose the best frock seen in the production!
Contributions and suggestions for inclusion are welcome. Please get in touch with the editor Vanessa Heron.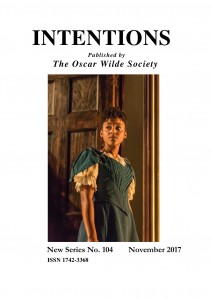 Our hon. chairman, Gyles Brandreth, enjoys Intentions!